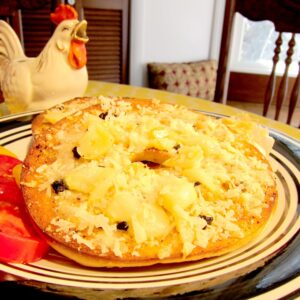 Black Garlic Ghee Roasted Garlic and Parmesan Bagel
Per full bagel – if you LOVE roasted garlic. Otherwise save the remainder of the bulb for pasta.
Ingredients
bagels of choice

– halved

roasted bulb of garlic

(recipe below in Recipe Notes)

Black Garlic Ghee

Freshly grated parmesan cheese

– can also use feta
Instructions
Cut bagels in half and place on a cookie sheet with the cut side up. Spread generously with Black Garlic Ghee and smear roasted garlic bulbs on top. You may also add small pieces of black garlic too. Place in a 325F oven and allow the bagel to warm for about 3 minutes or so.

Then sprinkle with the parmesan cheese and place under broiler (not too close) and broil till cheese is melted and slightly browned.

Remove and allow to cool slightly so you don't burn your mouth.

Perfect served with soups or salads or just because!
Notes
Roasting Garlic Bulb Instructions
Even out the bottom part of the garlic bulb with a knife or scissors without piercing the skin. Remove the loose skin on the entire bulb. Trim off the tops of the bulb to expose the inside cloves.
Drizzle 1 to 2 teaspoons of olive oil over the exposed surface of the garlic, allowing the oil to absorb down into the cloves. Place in foil and gather like a pouch and roast in the oven at 350F for approximately 40/45 mins.
Remove the pouch from the oven and allow to cool for about 15 mins. prior to pushing out the soft and gooey yummy cloves. Use immediately or place in a small jar with olive oil, lid on tight.