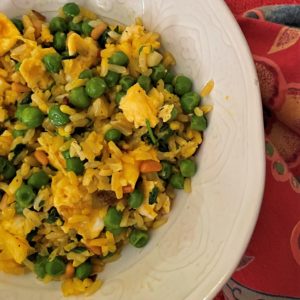 Brown Basmati Rice and Pea-Laf
The combo of grain and legume = a complete and tasty protein
Ingredients
1

cup

brown Basmati rice;

soaked overnight and rinsed well

2

cups

filtered water

2

tablespoons

Original Ghee;

divided

1 1/4

teaspoons

ground turmeric

1

teaspoon

Redmond's Real Salt;

divided

1

medium

shallot;

peeled and chopped

2

cups

frozen peas

2-3

eggs;

scrambled

2

tablespoons

Italian parsley or cilantro;

finely chopped

2

tablespoons

almonds, pine nuts, pistachios;

chopped and roasted

1/4

cup

feta cheese crumbles;

optional

salt and pepper to taste
Instructions
In a medium stock pot, over medium heat, melt 1 tablespoon ghee. Add shallots and stir occasionally till they are nicely caramelized. Remove from pan and set aside.

In the same pan and again over medium heat, add a little ghee and the brown rice and stir for a minute or so til the rice blooms and you can smell the nutty aroma.

Add the water and some salt and bring to a boil. Once it boils, reduce the heat to simmer/low and cook for about 10 minutes or until most of the water has been cooked out. Leave the lid slightly ajar but watch it so it doesn't spill over.

Tilt the pot. There should still be a little water on the bottom of the rice. Add the peas and cover with the lid. Allow to cook for just a minute more, then remove the lidded pan from the heat. Toss in one tablespoon of ghee, the turmeric, parsley or cilantro and do NOT stir. Put the lid back on and allow it to rest for 5+ minutes or till all the water has evaporated and the peas are cooked.

In the meantime scramble the eggs and break into pieces. When the peas are cooked, add the shallots and eggs to the pot.

Season with salt and pepper and stir to incorporate everything.

Serve in bowls garnished with roasted nuts of your choice and feta cheese crumbles, if desired.

Can always serve on a bed of greens such as arugula.