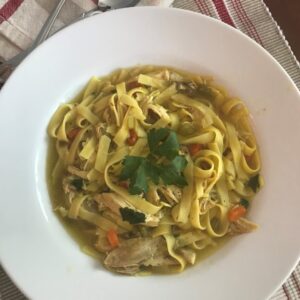 Chicken Noodle Soup with Saffron
Serves 6-8 with a salad.
Ingredients
1

whole organic chicken;

4-5 lbs

2

tablespoons

Heirloom Salt + Pepper Ghee

1

cup

chopped onions

1

onion;

cut up for broth

1

cup

carrots;

diced

3/4

cup

celery;

diced

2

large garlic cloves;

minced

1/4

teaspoon

dried thyme

1/2

teaspoon

saffron threads;

crumbled

8

ounces

uncooked egg noodles

2

tablespoons

fresh parsley;

chopped

2

tablespoons

celery leaves;

minced

Unrefined salt to taste

Fresh ground black pepper to taste
Instructions
Cover the whole chicken with water in large pot.

Add celery leaves and onion wedges to the broth. Bring to boil. Reduce heat; cover partially and simmer until chicken is cooked through about 1 hour.

Using tongs, remove chicken pieces and giblets from broth. Cool slightly.

Remove skin from breasts and leg-thigh pieces and tear or cut into bite sized pieces.

Strain broth into large bowl. Skim fat from surface of broth and discard.

Melt ghee in heavy large pot over medium-low heat. Add onions, carrots, celery, garlic, and thyme.

Cover; cook until vegetables soften, stirring occasionally, about 10 minutes.

Add broth and bring to boil. Reduce heat; simmer until vegetables are almost tender, about 15 minutes.

Add saffron and noodles and simmer 5 minutes.

Add 1 cup chicken; simmer until noodles are tender, about 5 minutes. Add parsley.

Season with salt and pepper to taste.

Serve with a teaspoon of ghee in the bowl.