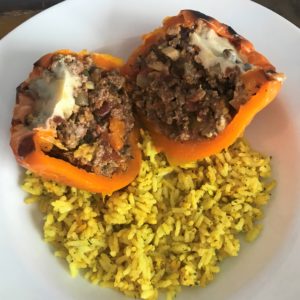 Stuffed Peppers
This recipe takes a little time but once it's done, it is all one needs for dinner! Using Original Ghee in this recipe is yummy but swapping it out for any of our savory Ghee DIY Mixes will only enhance the end result!
Ingredients
4

large

colorful bell peppers;

look for flat bottoms

1/2

pound

grass-fed ground beef

1

shallot;

diced

2-3

garlic cloves;

minced

1

cup

mushrooms;

sliced

1

tablespoon

coconut aminos

1

tablespoon

Simply Ghee Original

1

tablespoon

Italian seasonings

1.5

teaspoon

smoked paprika, sweet or spicy

1

cup

cooked rice; seasoning tips below

seasoning tips below

1/4

teaspoon

Redmond's Real Salt

1/2

teaspoon

cracked pepper

1/4

cup

water or broth

1/2

cup

grated cheddar cheese
Instructions
Stuffing Instructions
Cook rice according to package instructions or 1 cup rice to 2 cups water.

Once done, sprinkle 1/2 teaspoon Turmeric + Black Pepper DIY mix + 1/2 teaspoon of salt. Allow to rest prior to stirring and then set aside.

In a medium saute pan, melt ghee. Add the shallots till they begin to brown.

Add the ground beef and garlic and and cook till meat is almost browned.

Add the mushrooms, coconut amino, Italian seasonings, paprika, salt and pepper and stir to combine. Cook for 5 minutes or so, stirring frequently.

Once done, adjust any seasoning and remove from heat.
Pepper Instructions
Preheat the oven to 375F.

Wash and trim up peppers, making an opening at the stem large enough to add stuffing. Remove any of the white pith and be sure to wash the inside. Pat dry and add salt and pepper.

Stuff each pepper. Stand them up in a baking dish. If they are not even on the bottom, carefully cut off enough to make them flatter without opening up the pepper.

Add the water or broth to the baking dish. Cover loosely with foil and place in the oven. Bake for a good 30-45 minutes depending on how soft you like your peppers.

When they're just about done, add grated cheddar cheese to the top and toss under the broiler for just a minute or two. WATCH them carefully!
Notes
Find peppers that have a large wide bottom for ease in propping them up in the baking dish. 
Can substitute Black Garlic Ghee or Heirloom Salt + Pepper Ghee.
Tip for making rice: When it's almost done (looks a little wet), remove from heat. Add up to 1 teaspoon turmeric + 1/2 teaspoon salt + 1/2+ teaspoon of pepper + 1 generous teaspoon of ghee.
DO NOT STIR! Put the lid back on the pan and set aside. Stir it right before serving and adjust salt and pepper. Rice needs SALT!