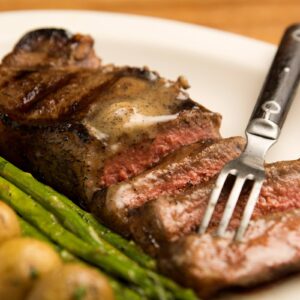 Black Garlic Ghee Steak
Ingredients
1

steak of choice

1

dollup

Black Garlic Ghee
Instructions
Choose the cut of meat you enjoy. Allow the steak to rest at room temperature for approximately 20 minutes before placing on the grill.

Cook it at a medium heat. To achieve medium heat, move steaks from the direct heat part to the indirect side or place them in a moderately hot oven.

Depending on desired wellness of the steak, do try to allow it to cook without jabbing and poking it to see if it's done. You can insert a meat thermometer.*

The biggest tip is to allow the steak to rest on a board for 10-15 minutes. It makes all the difference in the world. What's going on inside that unmolested steak is all sorts of magical recirculation of its juices, and it comes out perfect. (according to Anthony Bourdain)

Right before serving, add a nice dollop of Black Garlic Ghee – dive in!
Notes
*General Rule of Thumb: Place the steaks on the grill and cook until golden brown and slightly charred, 5-6 minutes on medium heat. Turn the steaks over and continue to grill:
3 to 5 minutes for medium-rare (an internal temperature of 135 degrees F)
5 to 7 minutes for medium (140 degrees F)
8 to 10 minutes for medium-well (150 degrees F)