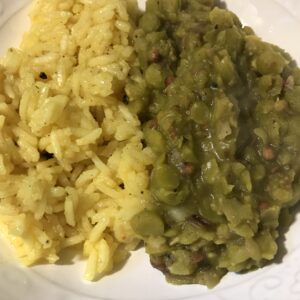 Curried Split Pea Dahl
Serves 4 generously with rice and a side veggie.
Ingredients
1

cup

dried split peas;

soaked for 3-4 hour and rinsed OR prepped using the Quick Method*

2 1/2

cups

filtered water

1

tablespoon

curry powder

1

teaspoon

turmeric powder

1

teaspoon

coriander seeds

2

teaspoons

fennel seeds

2

teaspoon

cumin seeds

1

teaspoon

cayenne pepper;

optional

2

tablespoons

Original Ghee

1/2

cup

shallots or scallions;

diced

2

teaspoons

good salt

1

teaspoon

freshly cracked pepper
Instructions
Place rinsed, soaked peas into a pan with the filtered water.

Stir in the turmeric, curry powder and cayenne.

Over medium heat, bring to boil and then reduce heat and cover partially. Simmer for 20-30 minutes or until all the water has evaporated. Peas should be tender and beginning to disintegrate. If too thick, slowly add more water for desired consistency.

In a small fry pan, heat 1 tablespoon ghee.

Add the fennel, coriander and cumin seeds along with the shallot and sauté until the seeds release their aroma and the shallots are lightly brown. Set aside.

Stir the cooked seeds, shallots, salt, pepper and remaining ghee into the split peas.
Notes
Serve with white or brown basmati rice. When rice is done, stir in Turmeric + Black Pepper Ghee and season with salt and pepper to taste.
*Quick Method
1. Rinse the beans under cool running water. Check and discard any stones or other debris. Drain.
2. Transfer to the saucepan and cover with about 2 inches of water.
3. Bring the water to a boil over high heat. Cook the beans for 1 minute, and then remove the pot from the heat.
4. Cover with a lid and let the beans to soak in the warm water for 1 hour.
5. Drain the beans into a colander. Rinse and begin to cook according to your recipe