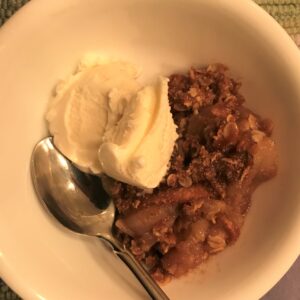 Maple Sugar Sweetened Apple Crisp – Gluten Free Style
A healthier version – delicious and just right sweetness. Serves 8+.
Ingredients
2 ¼

pounds

Granny Smith apples (about 6 medium apples)

– cored and sliced into 1/4" slices

⅓

cup

maple sugar or maple syrup

¼

cup

water

1

tablespoon

lemon juice

1

teaspoon

vanilla extract

2

teaspoons

cornstarch or arrowroot starch

1 ½

teaspoons

cinnamon

(divided)

1

teaspoon

ground nutmeg

(freshly ground is the best!)

¼

teaspoon

ground cloves

1

pinch

good salt

TOPPING:

1 ½

cups

gluten free oats

½

cup

almond flour

(firmly packed)

¾

cup

chopped pecans

⅓

cup

chopped almonds

⅓

cup

lightly packed coconut sugar

¼

teaspoon

good salt

1

tablespoon

butter + 2.5 Tbsp. Maple Cinnamon Ghee

(omit butter and increase Maple Cinnamon Ghee by 1/2 Tbsp. for lactose-intolerant diet)

¼

cup

Coconut Milk

(the firm part)*
Instructions
Preheat the oven to 350F.

Place the apples in a big bowl. In a measuring cup, whisk together the maple syrup (or sugar) and water. Add the lemon juice, vanilla extract, starch, cinnamon, clove, and salt. Pour over apples and mix well. Place apples into a 9" square baking dish and bake in the oven for 30 minutes.

In a mixing bowl, blend the oats, almond meal, pecans, almonds, coconut sugar, rest of cinnamon and salt. Melt the Maple Cinnamon Ghee and butter together, and stir in the coconut milk. Add this to the dry mix and stir until the mixture is incorporated and moistened throughout.

Upon removing the apples from the oven, give them a good stir and then top with the oat mixture. Return to the oven and bake for at least another 40 mins. Keep checking it to make sure the apples have softened to your liking. The edges will be bubbling. The top should be golden.

Allow the crisp to rest for at least 15 minutes before serving. Serve with vanilla yogurt or ice cream.
Notes
* Place a can of coconut milk in the fridge overnight and open it upside down to remove the "meat" of the milk. Discard the watery part.
Covered leftovers will keep for about 4 days in the fridge.