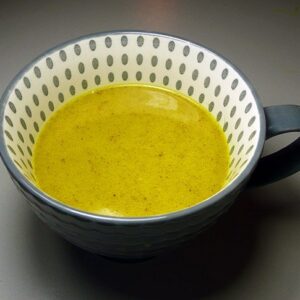 Golden Milk/Tea
Makes 3 small servings.
Ingredients
1

can

full fat coconut milk

(canned, BPA free and gum free.)

1 ¼

cups

filtered water

2

tablespoons

freshly grated ginger

1

tablespoon

freshly grated turmeric root

2-3

Ceylon cinnamon sticks

1

tablespoon

dark cardamom seeds

1

teaspoon

black peppercorns

1

teaspoon

organic ground turmeric

1

tablespoon

Turmeric + Black Pepper Ghee

raw honey to taste
Instructions
Place all ingredients into a saucepan and heat till it comes to a near boil. Stir occasionally and simmer for 35 – 50 minutes. Once ready to drink, pour through a strainer (cheesecloth) into a cup and sweeten with a small amount of raw honey. You may also pour into a clean glass container and add ¼ teaspoon of raw honey. Stir well and serve or refrigerate till ready to use. Simply warm it and enjoy.
Notes
Golden Milk is great to drink in the evening before bedtime. It's so warm and relaxing and it just feels makes one feel good.  Choose your milk according to your preferred diet. Omit honey for the Keto diet.
*The turmeric root can stain anything it touches so be careful.