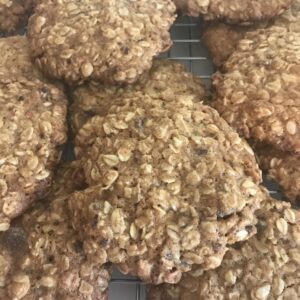 Old Fashion Oatmeal Ginger Cookies
This recipe calls for muscle and not a mixer. You will be blending by hand honey!
Ingredients
1

cup

all-purpose flour;

Einkorn is good

1

teaspoon

good salt

1/2

teaspoon

baking soda

1

teaspoon

ground cinnamon

1/4

stick

unsalted butter

1/2

cup

dark brown sugar

1/2

cup

Original Ghee;

melted

1/4

cup

granulated sugar

1.5

tablespoons

ground ginger

1

large egg + 1 large yoke

2

teaspoons

vanilla extract

3

cups

old fashion rolled oats

1

cup

crystalized ginger or chewy ginger candy;

cut into small chunks
Instructions
Make sure the oven rack is in the middle and preheat oven to 375. Line 2 rimmed cookie sheets with parchment paper.

Whisk flour, salt and baking soda together in a medium size bowl and set aside.

Melt the butter in an 8-inch skillet over medium heat and stir occasionally till the foaming subsides. Continue to cook for about 2 minutes, stirring and scraping the bottom of the pan constantly with a heat-resistant spatula until the milk solids are dark golden brown and the butter has a nutty aroma.

Put butter into a larger bowl, scraping the skillet with spatula and stir in the cinnamon and ground ginger.

Add the brown sugar, granulated sugar and melted ghee and whisk or blend with a wooden spoon till combined. Add the egg and yoke and vanilla; whisk until the mixture is smooth. Using a wooden spoon or spatula, stir in the flour mixture until fully combined, about 1-2 minutes. Add the oats and ginger (or raisins) if using and stir until evenly distributed. Mixture will be very stiff.

Divide the dough into 20 or so portions, each 2-3 tablespoons. With damp hands, roll into dough balls and place on a cookie sheet with 2" between them. Press them down into about a 2 – 2.5" disk.

Bake one cookie sheet at a time for 5 minutes and then turn the sheet around halfway. Bake for up to another 5 minutes or until cookies are set and lightly browned. Centers should be soft.

Let cookies cool on the tray on a wire rack for 5 minutes, then remove with a metal spatula and cool completely on a wire rack.
Notes
Enjoy plain or with ice cream, nut butters, lemon curd, or spread with some ghee.
Options: For Cinnamon Raisin Oatmeal Cookies, omit the ground ginger and candies. Increase cinnamon to 1 tablespoon and add 1 cup of raisins.
Learn more about Einkorn flour and why it is great to use in recipes in this article on Dr. Axe's website.