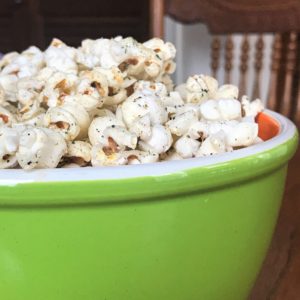 Seasoned Ghee Popcorn
Say goodby to those microwave prepackaged popcorn. They are full of preservatives and who knows what!
This version requires only a burner, pot with a lid, some ghee and popcorn + it is 100X tastier!
Equipment
1 pot with lid

large paper bag for seasoning
Ingredients
1

cup

organic popcorn kernels

1

tablespoon

ghee
Instructions
In a bowl mix all of the seasoning together and set aside.

Over medium/high heat add the ghee and 3 kernels of corn. Put on the lid, shake the pan a few times and wait for the ghee to heat and the kernels to pop! This will help make popping easier.

Then add the remaining popcorn, cover and reduce heat to medium. Shake the pan with small little breaks till all the kernels have popped. You can check under the lid carefully but do wait till there's a good 5 – 10 seconds without a pop. Remove from heat.

Carefully toss the popped corn into a big paper bag, sprinkle the blended seasonings. Close the top of the bag and shake vigorously to coat all the popcorn.

Taste and add more of the seasoning or salt and shake again.

Place in bowl and sprinkle parsley and salt over the top. Serve!
Notes
Be creative with your seasonings. Make your own concoction or use some of the blended seasonings in your spice cabinet associated with other foods, such as everything bagel, any of  those hot and spicy blends, smokey or BBQ meat rubs… parmesan cheese, lemon pepper, nutritional yeast…whatever unique seasonings you have stashed in your pantry. You never know what you might end up creating!
Ghee is a great cooking fat for popping because of its high smoke point + your pop corn will NEVER get soggy due to the lack of moisture in ghee.
You can store leftover popcorn in an air tight container and it will be just as crisp as the day you made it.