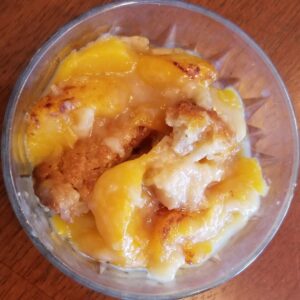 Peach Cobbler
So yummy!  Serves 8-10.
Ingredients
1/2

cup

Simply Ghee Original or Maple Cinnamon Ghee;

melted

1

cup

organic flour

1/2 – 3/4

cup

Turbinado sugar

1/2

cup

brown sugar

1

cup

whole milk

4-5

cups

fresh sliced peaches;

peeled*

1

tablespoon

fresh lemon juice

Generous

sprinkle

ground cinnamon

Pinch

good salt
Instructions
Melt ghee in 13 x 9 baking dish.

In a mixing bowl, combine flour, ¾ cup Turbinado sugar, baking powder and pinch of salt. Add the milk and stir just until dry ingredients are moistened.

Pour the batter over the ghee in the baking dish. Do not stir!

In a medium saucepan, bring the brown sugar, peaches and lemon juice to a boil over high heat, stirring constantly. Pour over batter but don't stir.

Sprinkle with cinnamon.

Bake at 375 degrees for 40-45 minutes or until golden brown.
Notes
Serve alone, with fresh whipped cream or warm with vanilla ice cream.
* Peeling peaches: Blanching peaches loosens their skin and makes them super easy to peel.
1) Score an X on the bottom skin of each washed peach. Do not cut deeply – just need to score the skin.
2) Put the peaches in the boiling water, making sure they are entirely submerged. Blanch them for 40 seconds or up to one minute if the peach is not quite ripened.
3) Remove each peach from the boiling water using a pair of tongs or slotted spoon.
4) Submerge into a ice bath for at least one minute to cool quickly.
5)  Cut them in half, remove the pit, peel off the skin using your fingers or a small knife.  Slice/dice them for the recipe.
6) BE CAREFUL!  They are slippery!