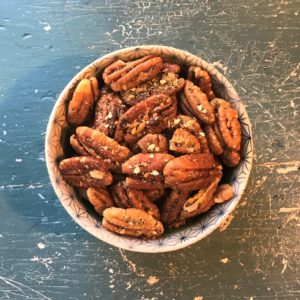 Plucking Everything Pecans
With an Umami flavor profile along with garlic, a little kick and some salt, you'll be grabbing handfuls!!
Instructions
Over medium heat, melt the ghee in a saute pan. Once melted add the pecans and swirl around till they are coated. Cook on low heat for about 5 minutes or so. Stir frequently so they don't burn.

While the pecans are cooking, mix all the dried ingredients in a bowl.

Remove pecans from heat, place into a big paper bag, add the mixed seasoning. Close the top of the bag and shake, shake, shake till pecans are covered with seasoning. Add more of whatever seasoning to taste and shake some more!

They are hot so be careful. Allow to cool before storing in an airtight container. Eat as a healthy snack or toss on yogurt, salads, crush and top off avocado toast, you name it.
Notes
You may use whatever nuts you prefer. The softer ones will absorb the ghee best as well as the spices you add. 
Cashews are an excellent choice as are macadamia nuts. Plus you don't need to pre-soak these two types of nuts.