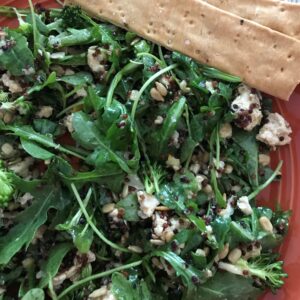 Roasted Lemony Quinoa, Chicken Arugula Salad
Servings: 2 generously as the meal; 4 as a side salad.
Ingredients
12

oz

ground chicken or turkey

1

tablespoon

Simply Ghee Original

4

tablespoons

extra virgin olive oil

2

small

lemons;

thinly sliced and seeded

1

cup

chicken broth

1

cup

broccoli florets;

cut small

1/2

cup

quinoa;

multi-color

1/4

cup

white wine/champagne vinegar

1

tablespoon

Dijon or gourmet mustard

2

cups

arugula

¾

cup

toasted pine nuts or sunflower seeds

1/2

cup

fresh mint;

finely chopped
Instructions
Preheat oven to 425 degrees F

Melt the ghee in a pan on the stove, add the ground chicken and cook on medium high heat.

Place the thinly sliced lemon slices on a parchment lined baking sheet. Roast the lemons until they are slightly browned, 7 to 9 minutes. Can go a little longer if you prefer them more caramelized.

Meanwhile, bring broth and quinoa to a boil in a small saucepan. Follow the directions on your package. Once the quinoa is removed from the heat, let it stand covered for at least 10 minutes so it cools. Fluff with a fork. Can toss it with a little ghee too.

Cut broccoli florets from the stems. Trim peel and thinly slice the stems and chop the florets into bite size pieces.

Finely chop the lemon slices. Combine in a large bowl with vinegar, mustard and the olive oil and salt and pepper to taste.

Add the chicken, broccoli, quinoa, arugula, nuts and mint to the dressing and toss to combine.
Notes
This recipe can be made with any of our savory ghee but Heirloom Salt + Pepper and Black Garlic Ghee are perfect to use.
Ghee Gal Approved!
Looking for a quality olive oil at a reasonable price? Check out the Olive Tap in Pittsburgh. There is a store and you can order online.