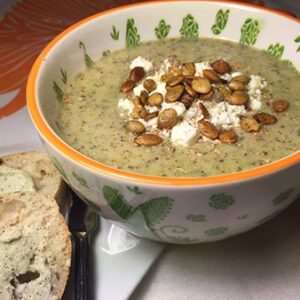 Broccoli Soup with Roasted Pumpkin Seeds
Serves 4-6.
Ingredients
2

tablespoons

Simply Ghee Original

½

cups

chopped sweet onion

½

cup

celery

– diced

4

cups

veggie or chicken broth

(preferably homemade)

1

Yukon Gold potato

– peeled and thinly sliced

1

lb, generous

broccoli

– cut into medium sized florets + stem (peeled and diced in smaller pieces)

6

cloves

garlic

– peeled and chopped into small pieces

2

tablespoons

dried oregano

1

tablespoon

dried basil

½

teaspoon

good salt

½

lemon

– juiced (or more to taste)

salt and pepper to taste

2

teaspoons

Freshly grated nutmeg

(at least, more if desired)

8

oz

sour cream

(optional) (omit for Lactose-Intolerant and Whole30 diet)

1

tablespoon

Simply Ghee – Black Garlic

(optional)

Feta cheese crumbles for garnish

(optional) (omit for Lactose-Intolerant and Whole30 diet)

pumpkin seeds

– see Recipe Notes
Instructions
In a large saucepan heat the Original ghee over medium heat. Add onions and celery and saute for about 3 minutes. Add the garlic and potato and stir for a few more minutes. Add the broth and allow to simmer.

In the meantime, remove the florets from the broccoli and with a vegetable peeler, peel the broccoli stems and cut into 1/4" thick slices. Add the broccoli and bring to a boil. Reduce heat to low and simmer. Add the oregano, basil, and salt and simmer everything until the veggies are soft.

Using an immersion blender or regular blender, puree the mixture until smooth. Return to pan, add lemon juice, salt and pepper, and freshly grated nutmeg. Bring soup to simmer, remove from heat and if you want, whisk in the sour cream. You may also use coconut cream or simply add Black Garlic Ghee.

Garnish with roasted pumpkin seed and feta crumbles. Salt and pepper to taste. ENJOY!
Notes
Roasted Pumpkin Seeds: 1 cup of raw organic pumpkin seeds 1 Tbsp. Simply Ghee Original 2+ tsp. BBQ Mesquite Seasoning (salt-free) ½ – 1 tsp. Turmeric powder ½ tsp. good salt Instructions: Preheat oven at 300F. Melt the ghee and add the spices to it. Toss seeds and spread out onto a cookie sheet. Bake in the oven till you can smell them roasting. Stir occasionally till they're evenly browned, between 10-15 minutes. Place baking sheet on a cooling rack and cool before putting into an airtight storage container. BE CAREFUL! The seeds are extremely hot!!!! Turmeric will stain anything yellow it comes into contact. Great to garnish soups, salads or just as a simple snack.