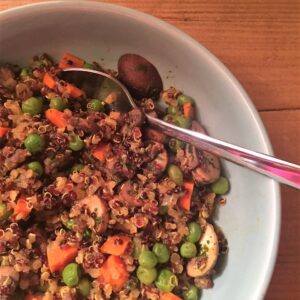 Organic Quinoa with Sweet Peas, Mushrooms, and Shallot
Serves 2 – 4 generously.
Ingredients
1

cup, generous

organic quinoa;

rinsed

1

cup

fresh or frozen organic sweet peas

2

tablespoons

Simply Ghee Original

2

cups

filtered water;

can also use veggie or chicken stock

1

cup

sliced mushrooms of your choice;

mixture is good

1

shallot;

finely diced

1

teaspoon

ground turmeric

1

teaspoon

ground coriander

1

teaspoon

ground cumin

unrefined salt and freshly ground pepper to taste
Instructions
Rinse the soaked quinoa well and toss into a saute pan. Over medium heat, dry roast it to remove all the moisture. Once it begins to pop remove from heat. Put into a clean bowl and place the saute pan back on the burner.

Heat half the ghee and warm all the ground spices over medium heat. Add the diced shallot and carrots and cook till translucent. Add the quinoa and cook for approximately two minutes, stirring often. Add 1½ – 2 cups of water/veggie/chicken stock. Bring to boil. Lower heat, cover and simmer approximately 15– 20 minutes or until the liquid has been absorbed. Check the tenderness of the quinoa towards the end of cooking time to ensure it is cooked to your liking and if not add a little more liquid to the pan to soften further. Do not stir.

In a separate pan, heat the rest of the ghee. Add the mushrooms and stir frequently for about three minutes. You may also add a splash of water/stock to assist in the cooking. Add the peas, parsley and a pinch of unrefined salt and pepper and stir till peas are hot.

Take the peas and mushroom mixture and add to the quinoa. Stir till blended, adding just a little more ghee and season to taste with unrefined salt and pepper. Serve warm.

Garnish with fresh parsley.
Notes
Serve with a fresh salad. The secret to keeping quinoa from becoming mushy is first to soak it and then dry roast it to remove all water from it. It will release a nutty aroma when it is dry. THEN add your fluid to cover generously and cook it.