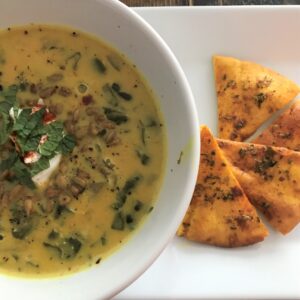 Spiced Chickpea Soup with Greens
Coconut cream makes this soup so silky and delish.
Ingredients
2

tablespoons

Original Ghee

5

garlic cloves;

finely chopped

1

large yellow sweet onion;

diced

2

inches

fresh ginger root;

peeled, finely chopped

good salt and freshly cracked pepper

1

teaspoons

smoked sweet paprika

2

tablespoons

ground turmeric;

+ more for garnishing

1

teaspoon

chili pepper flakes;

+ more for garnishing

2

15oz cans

chickpeas;

drained, rinsed well

1

15oz cans

full fat coconut milk or coconut cream

2

cups

of veggie or chicken broth

1

bunch of Swiss chard, kale and/or spinach;

stems removed, cut into small bite-size

1

cup

fresh mint;

cut into thin strips for garnishing

yogurt for garnishing;

optional

curried sunflower seeds for garnishing;

see recipe on site
Instructions
Melt the ghee in a large pot over medium heat. Add onion, garlic and ginger – season with salt and pepper and cook for about 4 minutes, or until the onions are a bit translucent and start to brown.

Add the turmeric, paprika, chili pepper flakes, chick peas and season with salt and pepper and a splash of broth. Cook and stir frequently for about 8-10 minutes so the chickpeas cook in the spices and ghee. They will begin to brown and get crispy.

Smash the chickpeas against the side of the pan with a wooden spoon which will help to thicken the soup. Remove about 1 cup of chickpeas and set aside.

Bring to simmer, scraping and stirring occasionally till the soup has thickened, 20+minutes. If your desired consistency is not met, continue to cook until you like the thickness of the soup.

Add Swiss chard and stir, making sure it has all submerged under the liquid. Cook till wilted and soft for 3-5minutes. Kale will take longer to soften. Season again with salt and pepper.

Divide among bowls, top with reserved chickpeas, mint, yogurt dusted with sweet paprika, turmeric and curried sunflower seeds. Serve alongside with toasted pita.
Notes
Toasted Pita – spread a very thin layer of ghee onto the pita.
Dash it with turmeric, paprika and oregano.
Place into a 325F oven and toast for upwards of 10 minutes. Don't let it burn. Cut into triangles and serve.
Chickpeas can need a lot of salt so this recipe doesn't end up salty!
Can also use Turmeric + Black Pepper Ghee.